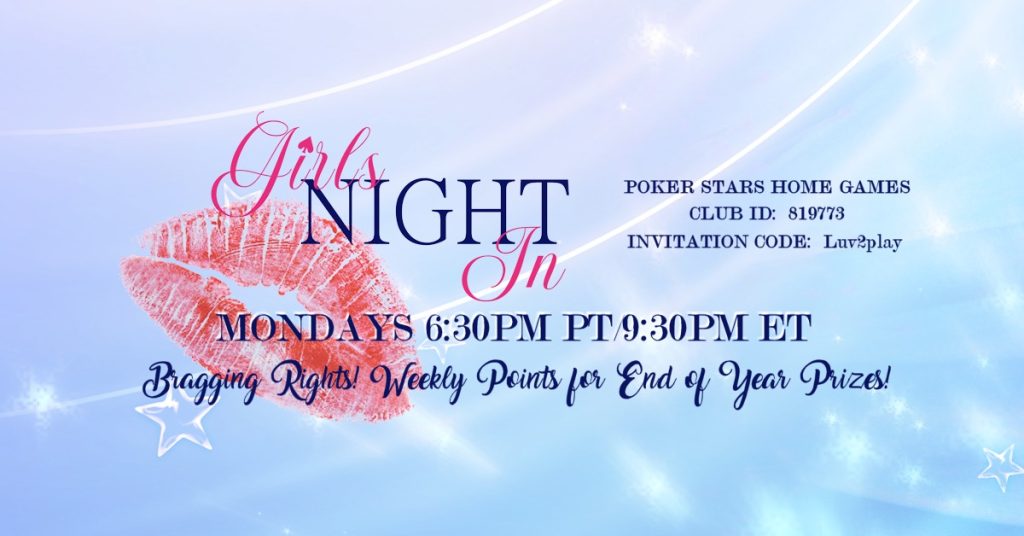 Girls Night In is the longest running online FREE game in history. LIPS & Luvin Poker began this game in 2008 and it remains one of the most exciting and challenging game today!
WHEN:
Mondays at 6:30pm PST are the regular games!! We will be playing on the Poker Stars HOME GAMES section with Luvin Poker. (This is the FREE side of *Poker Stars)
HOW:
This is what you need to do to play…
Currently laptop and computer are the only options to play, not available on mobile.
Join the poker club on PokerStars in advance. The first time you join a club, membership needs to be approved. Do not wait until game time.
*If you have Poker Stars on your computer already, simply skip step 1 and go to step 2.
1.) Please download Stars (if you haven't already) You must use the name you always had there if you had a Poker Stars account.
2.) Go to the Home Games tab. "Join a Poker Club". Invitation Code is Luv2play and the Club ID is 819773.
3. Send Jennifer Winter a Private Message with your screen name so she can get you approved.
4.) Wait to be approved. Then 24 hours before game time you'll be able to register to play! Hope to see you in our games!!
We host games every Monday. Right now these games will be for fun and bragging rights only.
Results and Leaderboard can be found here: http://luvinforums.com/lp/
We will be posting results each week with screen names. We will also be updating the screen names section: http://luvinforums.com/lp/index.php/screen-names/
Real name verification: If we do not have verification of your screen name and real name, we will attempt to verify. If we are unable to verify who a player is and that they are female, Jennifer Winter will block that player from active play until they contact her to verify who they are. Once that happens they will be unblocked.
The first place winner each month will be crowned the GNI champ for that month and we'll post a cool little trophy for bragging rights. This is going to be very tough ladies, so even though its play chips, you know how competitive these games are.
WHO WINS?
2023 Season Tournament of Champions!!! Each monthly winner will earn a spot in the Tournament of Champions to be played in January 2024!!!
The winner of the Tournament of Champions will receive a $100 Gift Card and virtual trophy with awesome bragging rights! 2nd Place will receive a $50 gift card and 3rd place will receive a $25 gift card.
TOC Disclaimer:
Please note, players may win multiple times, but only qualify for one entry. No subs allowed, only the player earning the seat can play.
Results and Leaderboard can be found here: http://luvinforums.com/lp/