LIPS 20th Year Anniversary Tour
Twenty Stops for Twenty Years in 2024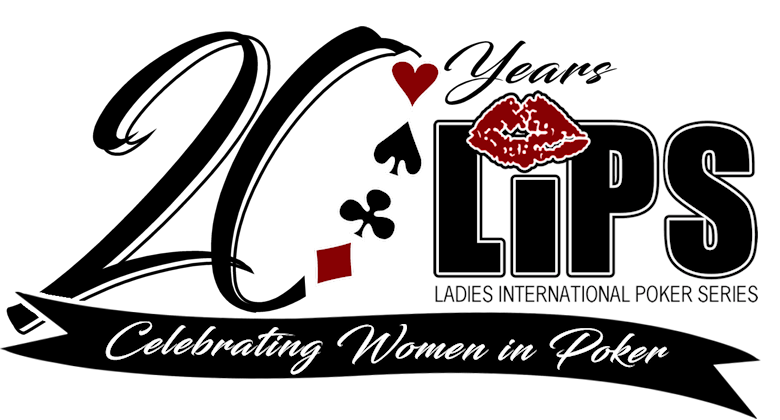 In celebration of our 20th Anniversary of providing poker festivals to women players of all skill levels, LIPS is hosting an Anniversary Tour – "Twenty Stops for Twenty Years in 2024". This special anniversary tour is a great way to honor the contributions of women in the poker community and promote inclusivity in the game. We wish to include both renowned poker destinations and emerging poker communities to ensure this celebration is geographically diverse and accessible to a wide range of players. Consider your poker room as one of the "Twenty Stops for Twenty Years in 2024" celebration stops!
PROMOTIONS
Leading up to this epic anniversary year, our promotions include:
Announcement and Teasers: We'll create anticipation and excitement through all our social media avenues, newsletters, and poker forums. Teasing participants of the upcoming series, hinting at special events and surprises.
Event Calendar: We'll work with you to find the perfect dates for your tour stop. To date, we have six tour stops secured, and many are in the scheduling stage. Locking in dates early is a wise strategy for planning and promotion. This extended promotional period is used to create buzz, build anticipation, and reach a wider audience through our various marketing channels.
Special Tournaments: This 3-Day series stop, (Friday, Saturday, and Sunday) includes a warm-up event, a main event, and one specialty event such as a Jack N Jill, Bounty, or Deepstack event for example. (If for some reason we can't accommodate a 3-Day event, we can discuss alternatives.)
Satellite Tournaments: Organized satellite tournaments both live and online allow players to win seats in the main event. This can help build excitement and participation.
Content Creation: We'll work with your marketing department to produce content that highlights the series at your poker room. This includes interviews, articles, and videos.
Social Media Engagement: Our active presence on social media platforms, sharing updates, and highlights, and engaging with the poker community takes place before, during, and after the event conclusion.
Final Table Celebration: Women's Poker Association sponsors all final table celebrations of women's events. The celebration includes small promotional gifts for the final table finishers and a Winner's Circle Trophy for the event winners.
Charitable Component: LIPS always incorporates a charitable element into our series with merchandise sales and awareness of Poker Gives, the LIPS charity of choice.
The LIPS specialty is creating memorable and inclusive experiences which attract and retain a dedicated community of players who look forward to your events year after year.
HIGHLIGHTS
SPECIAL ANNIVERSARY PLAYER OF THE YEAR: To highlight the success of winners from every stop, we're introducing a 20-Year Anniversary Player of the Year competition. This encourages players to travel to qualify in the race!
POY WINNER'S PACKAGE: Our POY Winner receives a 20th Year Anniversary POY Trophy, an entry to the 2025 WSOP Ladies Championship, the 2025 WPT Ladies Championship, the 2025 LIPS National Championship and custom LIPS 20th Year Anniversary commemorative jacket.
PARTICIPATION DETAILS
DATES: The LIPS 20th Anniversary Tour is a 3-day festival scheduled on a first come first serve basis. Schedule your stop as soon as possible to secure your desired dates
FEES: Our promotional and marketing fees are participation based. Build our fees into the buy-in per event. (View the scale here)
ACCOMMODATIONS: Complimentary accommodations for LIPS Staff for the duration of the series. (Usually, Thursday before the festival start to Monday after the last event, and no more than 2 staff rooms)
VENDOR SPACE: An allocated space in the event area for merchandise vending and a photography/media station for the duration of the series. Usually 3-4 eight-foot tables.
GET INVOLVED TODAY
In summary, locking in festival dates early not only provides more time for promotion but also enhances overall event planning, marketing, and execution contributing to the success of the event. LIPS has an extensive database of players and a solid following. A significant amount of women travel the tour especially those in the "WPA Player of the Year" race. This festival will attract new and returning players to your poker room with a strong showing of support for women in the game.
CONTACT
Ready to schedule your dates or learn more? Simply complete the form below and we'll contact you as soon as possible. We so look forward to working with you!